Losing a loved one tragically is an incredibly painful experience that no one should have to endure. When this tragedy occurs due to the negligence or misconduct of another party, it becomes even more devastating. In such difficult times, seeking justice and compensation may be the last thing on your mind. However, it is important to understand that by working with the right Atlanta wrongful death lawyer, you and your family can recover compensation for the loss of your loved one. If your family is experiencing the death of an injured loved one, reach out to the experienced lawyers of Monge & Associates for a free case evaluation.
Atlanta Wrongful Death Resources
To immediately access the resources at any point on this page, click the corresponding links below.
What Is a Wrongful Death?
Common Causes of Wrongful Death
Fees and Costs of Hiring a Wrongful Death Lawyer
We Seek Justice for Grieving Families
When Should You Hire a Wrongful Death Lawyer?
How We'll Handle Your Case
Potential Compensation in an Atlanta Wrongful Death Lawsuit
Will There Be Punitive Damages in Your Case?
Choosing the Right Wrongful Death Lawyer
Notable Wrongful Death Settlements & Recoveries
Atlanta Wrongful Death FAQs
Speak to an Attorney Today
What Is a Wrongful Death?
A wrongful death occurs when someone dies due to the mistakes or intentional actions of another person or entity. In situations where a car accident, medical error, workplace hazard, physical assault, or another incident leads to death, it may be considered wrongful.
In Atlanta, if someone's actions resulted in the wrongful death of a loved one, you might have grounds for a legal claim. Even if the responsible party faces criminal charges, such as driving under the influence (DUI), a separate civil action can be pursued for financial damages.
What Are Common Causes of Wrongful Death in Atlanta?
A wrongful death can be caused by a variety of circumstances, and each case is unique. But, there are some common causes of wrongful death in Atlanta that require the expertise of an experienced attorney. Let's take a closer look at a few of them:
Medical Malpractice: Medical professionals have a duty to provide proper care, but errors can occur, leading to tragic outcomes. If you suspect medical malpractice caused the death of your loved one, a skilled wrongful death lawyer can help investigate and hold the responsible parties accountable.
Car and Truck Accidents: Reckless driving, distracted driving, and drunk driving can result in devastating accidents that claim innocent lives. With Atlanta's bustling roads, these accidents unfortunately occur frequently. An attorney well-versed in wrongful death cases can help you pursue a claim against the responsible driver or other liable parties.
Industrial or Construction Site Accidents: Workplaces can be dangerous, particularly in industries like construction. If your loved one died due to a workplace accident caused by negligence, it is crucial to consult a wrongful death lawyer who understands the complexities of workplace safety regulations and can fight for the compensation you deserve.
Slip and Falls: Property owners have a responsibility to maintain safe premises for visitors. When they fail to do so, fatal slip and fall accidents can happen. Holding a negligent property owner accountable requires the expertise of a skilled Atlanta slip and fall attorney who knows how to navigate the premises liability laws in Georgia.
Defective Products: Manufacturers must ensure the safety of their products. If a defective product causes the death of a loved one, a wrongful death lawyer can help you seek justice against the manufacturer or other parties involved in the product's design, production, and distribution.
Exposure to Toxicity: Exposure to hazardous substances, such as toxic chemicals or asbestos, can have severe health consequences, including wrongful death. An attorney experienced in toxic tort litigation can help you build a strong case against the responsible parties.
Nursing Home Abuse or Neglect: Tragically, some nursing home residents suffer abuse or neglect at the hands of their caregivers. If your loved one's death resulted from nursing home negligence, a compassionate wrongful death lawyer can help you protect the rights of the vulnerable and pursue compensation.
Who Can Bring a Wrongful Death Lawsuit in Georgia?
In Georgia, specific individuals are legally permitted to file a wrongful death lawsuit on behalf of the deceased. Primarily, the right to file belongs to the deceased's spouse. If the deceased didn't have a spouse, the responsibility falls to the children.
If neither a spouse nor children are present, then the deceased's parents can step in and file a lawsuit. In cases where none of these relationships exist, the personal representative of the deceased's assets or estate has the right.
Fees and Costs of Hiring an Atlanta Wrongful Death Attorney
When facing the loss of a loved one, concerns about legal fees and costs can add to the burden. However, many Atlanta wrongful death lawyers work on a contingency fee basis. This means that you do not have to pay upfront fees. Instead, the attorney's fees are contingent upon the successful resolution of your case. If your case is successful, the attorney's fees are typically a percentage of the compensation recovered. This arrangement allows you to focus on healing and seeking justice without financial stress.
Death is Always a Tragedy to Those Close to the Deceased
Losing someone we love is undoubtedly one of the most challenging experiences in life. The pain and grief that follow a wrongful death are immeasurable. It is essential to recognize that the emotional and psychological toll of losing a loved one cannot be adequately compensated. However, pursuing a wrongful death claim can provide financial support for the surviving family members and hold the responsible parties accountable for their actions.
When Should You Hire an Atlanta Wrongful Death Lawyer?
It is natural to feel overwhelmed and uncertain about when to hire an Atlanta wrongful death attorney. While the grieving process takes time, it is crucial to understand that there are time limitations for filing a wrongful death claim. The statute of limitations imposes a deadline within which you must initiate legal action.
To ensure that you don't miss this crucial deadline and to maximize your chances of a successful case, it is advisable to consult with a wrongful death lawyer as soon as possible. Your Atlanta personal injury lawyer can evaluate your case, gather evidence, and guide you through the legal process while you focus on healing and taking care of your family.
How We'll Handle Your Case
Navigating the complex maze of a wrongful death lawsuit, especially amidst the emotional turmoil of losing a loved one, requires legal expertise and compassionate dedication. At Monge & Associates, our Atlanta wrongful death lawyers can support you through every stage of the process, advocating aggressively for your loved one's right to justice.
We will support your case in several ways, from the initial consultation to the final settlement.
Immediate Response and Evidence Collection
After a wrongful death, time is of the essence. Vital evidence can get lost or become harder to trace as time progresses. Our firm will conduct a thorough investigation of your case, collecting photographs, videos, medical reports, and witness statements that can corroborate your claim. Then, we can help initiate your lawsuit in civil court before the filing deadline passes.
Navigating Legal Protocols
During a wrongful death lawsuit, numerous legal protocols need to be meticulously followed. From ensuring all documents are appropriately filed to meeting stringent deadlines, our attorneys will make sure that the legal details are taken care of on your behalf. We will help you navigate these complexities, allowing you to focus on healing and remembering your loved one.
Robust Negotiations
Many wrongful death lawsuits involve negotiations with insurance companies. Unfortunately, many insurance representatives are more concerned with protecting the company's bottom line, rather than helping victims recover full compensation.
Equipped with strong evidence and well-honed negotiation skills, our attorneys will protect your best interests. We negotiate fiercely, ensuring that your rights are upheld and that you receive a settlement that truly reflects your losses.
Litigation Preparedness
If negotiations stall or do not result in a satisfactory settlement, we are prepared to take your case to court. Our trial lawyers are adept at presenting a compelling case before a jury, making sure that your loved one's story is heard loud and clear. We will work tirelessly to prepare your case for trial and advocate for your loved one's right to justice.
Potential Compensation in an Atlanta Wrongful Death Lawsuit
Losing a loved one due to someone else's negligence or intentional act is a profound tragedy. While no amount of compensation could ever replace what happened, a wrongful death settlement could help alleviate the tangible and intangible burdens that grieving families face. In an Atlanta wrongful death lawsuit, there are two main categories of compensation: financial losses and the full value of the life of the decedent.
Financial Losses Suffered by the Estate
When a loved one passes, the estate might incur several economic setbacks directly linked to his or her death. These losses, which are both immediate and ones that extend into the future, can cause considerable stress to already grieving families. By filing a wrongful death lawsuit, your family could recover compensation for the following:
Medical Expenses: Before the passing of the loved one, he or she might have incurred significant medical bills due to treatments, emergency care, or hospitalizations. These expenses can be a significant burden, especially if the deceased was the primary earner. Wrongful death settlements can help pay for this medical care.
Funeral and Burial Expenses: The cost of laying a loved one to rest is often overlooked until families are confronted with it. With the rising prices of funeral services, plots, and other associated costs, it's an expense many families are unprepared for. Wrongful death claims can help ensure that families can provide their loved ones with the services that they deserve.
Necessary Expenses Resulting from the Illness or Injury: This category can include a broad range of costs, from hiring home care during the deceased's illness to transportation for medical appointments or treatments. Wrongful death lawsuits can help pay for these damages and relieve the financial burden suffered by the estate.
Full Value of the Life of the Decedent
This category seeks to compensate for the tangible and intangible damages that occur due to the loss of a loved one. Calculating the full value of the life of the decedent can be challenging, but typically involves the following damages:
Lost Wages, Benefits, and Services: Beyond the immediate earnings the deceased might have provided, a wrongful death settlement also considers potential future earnings and benefits. Families can recover compensation for what the deceased would have contributed to their family's financial well-being throughout their working life.
Lost Care, Companionship, Counsel, and Advice: The emotional void left behind by a deceased loved one is profound. This loss is felt daily in the absence of shared moments, guidance, and the warmth of their presence. While the pain of such a loss can never be truly compensated, a wrongful death claim includes compensation that acknowledges the depth of the loss left behind.
Will There Be Punitive Damages in Your Case?
Unlike compensatory damages, punitive damages do not intend to compensate the deceased's family or his or her estate. Instead, they intend to penalize the at-fault party and prevent similar behavior from occurring in the future. In cases where the at-fault party's behavior was particularly heinous, reckless, or exhibited stark disregard for life, the court might award punitive damages.
However, it's essential to note that these damages require a higher burden of proof. The defendant's actions must not just be negligent but should border on malicious or gross negligence. While punitive damages are not standard in every wrongful death lawsuit, with the right evidence and legal backing, your attorney could establish your right to this type of compensation if you qualify.
Choosing the Right Atlanta Wrongful Death Attorney
Selecting the right attorney to handle your wrongful death case is a critical decision that can significantly impact the outcome. Here are a few factors to consider when choosing an Atlanta wrongful death lawyer:
Experience and Expertise: Look for a lawyer with a proven track record in handling wrongful death cases. Experience and expertise in this area of law are essential to navigate the complexities of your case successfully.
Compassion and Understanding: Dealing with the loss of a loved one is an emotionally challenging journey. It is vital to find a lawyer who demonstrates empathy, compassion, and understanding towards your situation. A caring attorney can provide the support you need during this difficult time.
Resources and Network: A wrongful death case often requires extensive investigation, expert testimony, and access to various resources. A well-established law firm with a strong network of professionals can leverage these resources to strengthen your case.
Communication and Accessibility: Effective communication is key to a successful attorney-client relationship. Choose a lawyer who will be responsive, communicate clearly, and keep you informed about the progress of your case.
Track Record of Results: Research the lawyer's history of successful outcomes and settlements in wrongful death cases. This information can give you confidence in their ability to handle your case effectively.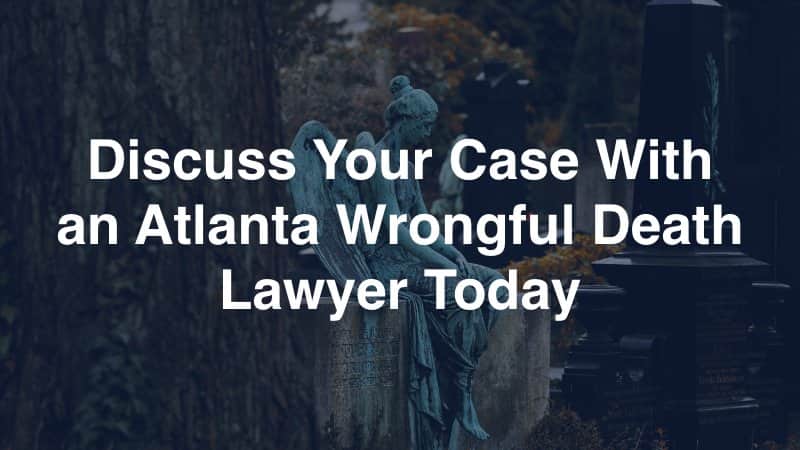 Notable Wrongful Death Settlements & Recoveries
Dealing with a wrongful death in the family can be a traumatic experience for you and your loved ones. We know that no amount of money can ever replace the loss you've suffered. Our legal team always strives to hold the person or party responsible for your loss fully accountable, so that no other family is harmed by similar careless actions in the future. We have secured numerous verdicts on behalf of those who have lost loved ones to negligence, including:
$4,000,000 recovery for a wrongful death in which the victim was exposed to asbestos
$2,500,000 recovery for the family of a child who drowned due to negligent pool maintenance
$1,200,000 recovery for the wife of a victim killed in a motorcycle accident
Atlanta Wrongful Death FAQs
After suffering a wrongful death in your family, you likely have a lot of questions regarding the legal process. Our team is prepared to answer any questions you have and fight tirelessly to secure justice for your lost loved one. We've answered some of the most commonly asked questions in the following section. If you have a question that is not addressed here, please feel free to reach out to our firm directly. We are happy to discuss the details of your specific case.
How Much Is a Wrongful Death Case Worth?
There are a number of factors that go into determining the value of a wrongful death lawsuit. Without knowing the details of your unique case, it is impossible to give a general estimate of what your case may be worth. A skilled Atlanta wrongful death lawyer at Monge & Associates can review the evidence in your case to get a sense of what it may be worth. They can also offer legal advice to help you choose the course of action that best meets your family's needs.
How Long Does a Wrongful Death Lawsuit Take?
Every case is unique, and there is no specific timeframe that universally applies to all wrongful death lawsuits in Atlanta. In general, it is likely that your case will take at least several months. This gives your lawyer time to collect evidence, review applicable medical records, and prepare your case for trial if needed. Wrongful death claims tend to be particularly complex, so they may take longer than other types of personal injury lawsuits. In some instances, they may even take longer than a year to resolve.
Can a Fatal Accident Result in Criminal Charges and a Wrongful Death Lawsuit?
Yes. If a Georgia law was violated and a person lost their life as a result, it is possible that there may be both criminal charges and a separate civil action. Instances in which there may be a wrongful death lawsuit and criminal charges after a fatal accident include:
Fatal DUI crashes
Violent crime
Fatal drunk driving crashes
Violation of traffic laws
---
"I am very much pleased with the service and care that I received from Julia at Monge and Associates. She went above and beyond to get me the best settlement possible and I am more than satisfied with the results."
– Quanise G.
---
Areas We Serve
We offer efficient legal services to residents and visitors of Atlanta and the surrounding communities, including areas such as:
Buckhead | Midtown | Virginia Highland | Inman Park | Old Fourth Ward | Grant Park | Ansley Park | West End | Kirkwood | Cabbagetown | Little Five Points | East Atlanta Village | Poncey-Highland | Atlantic Station | Reynoldstown | Castleberry Hill | Westview | Sweet Auburn | Oakland City | Mechanicsville | Morningside-Lenox Park | Brookwood Hills | Lakewood Heights | Edgewood | Pine Hills | Capitol View | Home Park | Adair Park | Ormewood Park | Underwood Hills
Reach Out to an Atlanta Wrongful Death Lawyer at Monge & Associates Today
If you have tragically lost a loved one due to another party's negligence, it is crucial to seek the assistance of a skilled Atlanta wrongful death lawyer. We can guide you through the legal process, protect your rights, and help you pursue the compensation you deserve.
At Monge & Associates, we understand the pain and devastation that accompanies a wrongful death. With more than 30 years of experience representing clients in Georgia, we have the knowledge, resources, and compassion to handle your case with the utmost care. Contact us today at 888-653-0605 for a confidential consultation, and let us fight for justice on your behalf.