When a tractor-trailer or large commercial truck is involved in a collision, it can cause serious and catastrophic physical injuries. In addition, the injuries tend to be more significant and numerous because collisions involving trucks often lead to multi-car pile-ups on roadways and highways.
The experienced Atlanta truck accident lawyers at Monge & Associates are here to fight for your rights and help you win. We understand that dealing with the aftermath of a truck accident can be overwhelming and confusing, but you don't have to face it alone. Start your pursuit of justice with a free consultation with one of our esteemed lawyers.
Atlanta Truck Accident Resources
To immediately access any of the resources found on this page, click the corresponding links below.
Common Truck Accident Injuries
What Are the Different Types of Truck Accidents?
How Our Atlanta Truck Accident Lawyer Can Help
Why Hire a Truck Accident Attorney?
What Damages May Be Available in Your Atlanta Truck Accident Claim?
Common Causes of Truck Accidents
Should You Speak to Insurance Adjusters After a Collision?
Steps to Follow After a Truck Accident in Georgia
Notable Truck Accident Settlements & Recoveries
Atlanta Truck Accident FAQs
Areas We Serve
Speak to a Lawyer Today
Common Truck Accident Injuries
Truck accidents can result in severe and sometimes life-threatening injuries due to the sheer size and weight of commercial vehicles. When a truck collides with a passenger car, the consequences can be dire. Here are some common injuries that victims may sustain.
Brain Injuries
Traumatic brain injuries (TBIs) can be some of the most severe outcomes of a truck accident. These occur when the head experiences a sudden trauma, causing it to shake violently or hit an object. TBIs can range from mild concussions to serious brain damage, with symptoms including headaches, confusion, and memory loss. Make sure to contact an experienced Atlanta brain injury lawyer if you have been in an accident.
Back and Neck Injuries
The back and neck are particularly vulnerable during a truck accident, leading to injuries that range from minor strains to severe, life-altering damage. Whiplash is a frequent neck injury in these collisions, caused when the head is thrown forward and backward abruptly. Herniated discs, caused by the force exerted on the spine during a truck accident, can cause immense pain and long recovery periods.
Spinal cord damage may also occur. These injuries can result in partial or complete paralysis, significantly altering a victim's way of life. A spinal cord injury might require long-term treatment, rehabilitation, and assistance, with patients often needing to make drastic adjustments to their daily routines.
Broken Bones
Given the force exerted during a truck accident, it's not uncommon for victims to suffer from broken bones. Fractures can develop in ribs, arms, legs, and even the skull. Broken bones resulting from these collisions often require extensive medical care, including surgeries and prolonged physical therapy.
Burn Injuries
Given that semi-trucks carry large amounts of flammable oil, collisions can result in explosions or fires. Victims may suffer first-, second-, or even third-degree burns in the accident, leading to a host of complications. Third-degree burns are the most severe and often cause lasting scars and nerve damage.
Internal Trauma
The violent impact of a truck collision can cause internal injuries even if no external wounds are evident. Victims might suffer from internal bleeding, punctured lungs, ruptured organs, or other forms of trauma. Internal injuries may not show any symptoms right away, which is why it is crucial to seek immediate medical attention.
What Are the Different Types of Truck Accidents?
Truck accidents can occur in many ways, each presenting its unique set of challenges and dangers. The nature of these accidents often depends on a combination of environmental conditions, driver behavior, and vehicle mechanics.
Rollover Accidents
When a large, heavy-duty truck rolls over, the effects can be catastrophic. During sharp turns or sudden maneuvers, a truck could tip over on its side and on top of vehicles traveling in the surrounding lanes. These collisions often result in catastrophic injuries and fatalities.
Head-On Collisions
Head-on accidents occur when a truck and another vehicle crash into each other, front to front. These can occur when a truck crosses into oncoming traffic or travels in the wrong lane. Often resulting from distractions, fatigue, or impaired driving, the sheer force of head-on collisions can cause significant damage and injuries.
Rear-End Accidents
Given their considerable size and weight, trucks require more time and distance to stop. If a truck driver is too close to the vehicle in front, there might not be enough time to stop, causing the truck to collide with the leading car.
T-Bone Accidents
Primarily occurring at intersections, T-bone accidents happen when a truck strikes the side of another vehicle. These often happen when a driver runs a red light or fails to yield the right of way. T-bone collisions can be particularly devastating for those on the impacted side of the car.
Sideswipe Collisions
When trucks and cars travel side by side, there's a risk of sideswipe collisions. These accidents often occur when a truck driver doesn't check blind spots or drifts into another lane, pushing cars into other traffic lanes or barriers.
Wide-Turn Accidents
When making right-hand turns, trucks sometimes swing wide, potentially colliding with vehicles in adjacent lanes. These maneuvers, if not executed carefully, can result in serious accidents.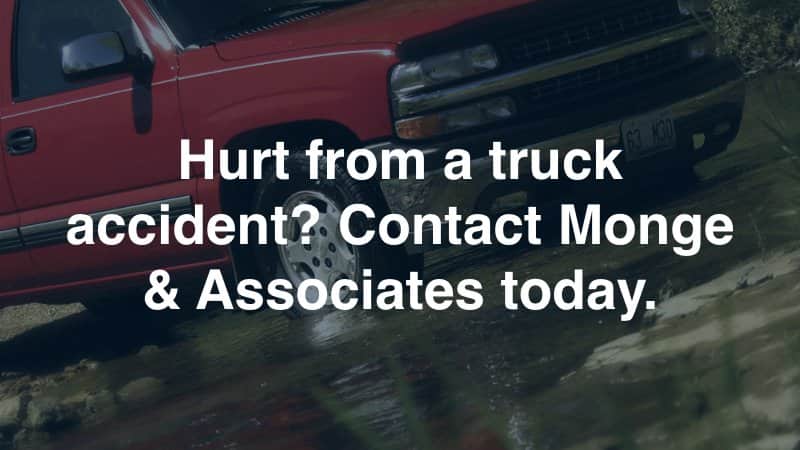 How Our Atlanta Truck Accident Attorney Can Help
We Will Explain All The Legal Language
Legal jargon can be like a foreign language, leaving you scratching your head in confusion. Don't worry! Our skilled attorneys will break down all the complex terms and explain everything to you in plain English. You deserve to understand every aspect of your case, and we will make sure you do.
We Will Handle The Insurance Company
Dealing with liable insurance companies can be a real headache. They will often try to minimize your claim or deny it altogether, leaving you frustrated and overwhelmed. But fear not! Our Atlanta personal injury lawyer knows all the tricks in the book and will handle the insurance companies on your behalf. We negotiate fiercely to ensure you get the compensation you deserve.
Help You Understand All Of Your Damages
A truck accident can result in a wide range of physical and emotional damages. From medical bills and lost wages to pain and suffering, it is crucial to understand the full extent of your losses. Our compassionate Atlanta truck accident lawyers will work closely with you to evaluate all your damages and build a strong case for maximum compensation.
We Will Fight Passionately To Get You The Maximum Settlement
We are not afraid to go the extra mile to fight for your rights. Our dedicated Atlanta truck accident lawyers will passionately advocate for you and strive to secure the maximum settlement possible. We will gather evidence, interview witnesses, consult with experts, and do whatever it takes to build a solid case that supports your claim for fair compensation.
We Will Represent You In Court
We will be fully prepared to take your case to court if necessary. We are experienced litigators with a proven track record of success, and we will skillfully present your case before a judge and jury. You can trust that we will stand by your side throughout the legal process, fighting tirelessly to protect your interests.
We Don't Get Paid Until You Win
We understand that the financial burden of a truck accident can be overwhelming. That is why we work on a contingency fee basis, so you do not have to worry about upfront legal fees. We only get paid if we win your case and secure a settlement or verdict on your behalf. Your success is our success.
Why Hire an Atlanta Truck Accident Attorney?
When it comes to truck accident cases in Atlanta, having strong legal representation is of paramount importance. Although semi-trucks are an indispensable means of transporting goods, they can also be the kiss of death when involved in an accident. Their massive size and weight can cause catastrophic damage and severe injuries. That is why you need a skilled truck accident lawyer to navigate the complex legal landscape and fight for your rights.
What Damages May Be Available in Your Atlanta Truck Accident Claim?
After a truck accident, you can suffer from a barrage of losses. These range from painful physical injuries and emotional trauma to mounting medical bills and lost income. By filing an Atlanta truck accident lawsuit, you can recover compensation to help alleviate these losses and the collision's impact on your life. These damages can be categorized into two types: economic and non-economic.
Economic damages refer to tangible financial losses such as lost wages from missed workdays, medical bills and future medical treatments, costs of home modifications or medical equipment due to injuries, and projected losses due to reduced or lost earning capacity.
Non-economic damages encompass intangible pain and suffering, such as emotional distress and mental anguish, chronic pain, permanent disability, loss of enjoyment of life or hobbies, and strain on family relationships.
Calculating your truck accident settlement can be a complex process. At Monge & Associates, our attorneys can help identify all potential avenues to compensation. Then, we will leverage our resources and expertise to accurately calculate your award. We will advocate aggressively for your maximum settlement during every stage of your claim.
What Are Common Causes of Truck Accidents in Atlanta?
A truck accident can happen for any number of reasons, but understanding the most common causes can help shed light on who may be held liable for the damages. Here are some of the typical causes of truck accidents in Atlanta:
Improperly Loaded Cargo: When a truck's cargo is loaded improperly, there can be disastrous consequences. If cargo is not secured correctly, it can shift during transit, causing the truck to become unbalanced and potentially leading to a collision.
Too Much Cargo: Overloading a truck beyond its weight capacity is a recipe for disaster. Excess cargo can strain the truck's braking system, make it difficult to maneuver, and increase the risk of accidents, especially when traveling downhill or during sudden stops.
Driver Fatigue, Distracted Driving, or impaired Driving: Factors such as driver fatigue, distracted driving, or impaired driving can lead to a truck crossing the center line and colliding with oncoming vehicles.
Work Pressure: Truck drivers are often pressured to meet tight delivery schedules. As a result, some may tailgate or fail to maintain a safe distance from the vehicle in front of them. Inadequate stopping distance can lead to rear-end collisions, causing significant damage and injuries.
Excessive Speed: Trucks have a higher risk of skidding or tipping over when taking curves or corners at excessive speeds. This can happen due to driver error, inadequate training, or poor vehicle maintenance.
Sideswipe Accidents: A sideswipe accident can occur when a truck driver changes lanes without checking their blind spots or fails to yield the right of way and swipes the side of a passing vehicle. The sheer size and weight of a truck makes such accidents particularly dangerous, often resulting in severe injuries or fatalities.
T-Bone Accidents: T-bone accidents, also known as side-impact collisions, can happen when a truck fails to stop at a red light or stop sign, or when a truck driver disregards a traffic signal and crashes into the side of an oncoming vehicle. These accidents can cause catastrophic injuries to the occupants of the impacted vehicle.
Turns Gone Wrong: Truck drivers must exercise caution when making turns, especially in urban areas with limited space. Failing to make wide enough turns or misjudging the clearance can lead to collisions with other vehicles, pedestrians, or stationary objects.
Under-Ride Collisions: Under-ride collisions occur when a smaller vehicle gets trapped under the rear or side of a truck, often due to inadequate under-ride guards on the truck or poor visibility. These accidents can result in severe injuries or fatalities for the occupants of the smaller vehicle.
Should You Speak to Insurance Adjusters After a Collision?
After a truck accident, approach insurance adjusters with caution. These representatives often have a goal to protect their company's bottom line, sometimes by minimizing payouts or finding reasons to deny claims.
Speaking to them without legal representation can inadvertently jeopardize your case. Any details that you share or statements that you make can be misconstrued or used against you. Before engaging with an adjuster, it's in your best interest to consult with an attorney.
Steps to Follow After a Truck Accident in Georgia
The aftermath of a truck accident can be disorienting, but the actions you take can significantly influence your legal claim. Take the following steps to protect yourself and your future case.
Seek medical attention as soon as possible.
Call 911 to report the accident to the police.
Take photos of the scene, damages, and injuries.
Gather contact details from eyewitnesses.
Exchange contact, insurance, and license information with the involved parties.
Avoid speculating about the accident's cause or admitting blame.
Contact an Atlanta truck accident lawyer to discuss your case and plan your next steps.
Notable Truck Accident Settlements & Recoveries
At Monge & Associates, our goal is always to win big for our clients. We strive to secure the best possible outcome in every case we take on. We are proud to have secured numerous favorable results in truck accident claims, such as the following:
$1,500,000 recovery for a family injured by a delivery truck driver who was hired despite having a history of dangerous driving
$800,000 recovery for a client who broke bones and contracted MRSA after they were a passenger in a vehicle struck by a truck
$500,000 recovery after a client was rear-ended by a garbage truck
$260,000 recovery for a client who suffered serious injuries and needed surgery after being rear-ended by a commercial truck driver that fell asleep behind the wheel
Atlanta Truck Accident FAQs
Truck accidents frequently cause catastrophic injuries and substantial damage to any vehicles involved in a collision. After being involved in a truck crash, you likely have many questions about the legal options available to you. In the following section, we've answered some of the most commonly asked questions about commercial truck crashes. If you have a question that isn't addressed here, please reach out to our law firm. We are happy to discuss the details of your unique case during your free initial consultation.
How Long Do You Have to File a Claim?
In the state of Georgia, most truck accident claims need to be filed within two years of your injury. This is known as a statute of limitations. Although there may be some limited exceptions to this rule, it is best to reach out to an attorney as soon as you are healthy enough to do so following your crash. Your memories of the event may fade over time and it can become increasingly difficult to compile valuable evidence. The sooner you contact a lawyer, the more prepared they can be to build a strong case on your behalf.
How Long Does a Typical Truck Accident Case Take?
The timeline of each truck accident case is unique, so it is challenging to give a specific timeframe for how long your case will take without knowing more information. Most cases take at least several months, since your attorney will need time to collect evidence, consult with medical experts, negotiate with insurance adjusters, and prepare to go to trial if needed. Cases that are particularly complex or go to trial may take many months or even over a year to litigate to completion.
How is Liability Determined After a Crash?
Determining liability is possibly the single most component of a truck accident lawsuit in Atlanta. If you cannot prove that another person or party was liable for your collision, it will be impossible to collect damages for the injuries you suffered in the crash. Our attorneys work diligently to gather the evidence necessary to demonstrate liability in your case, including:
Law enforcement accident reports
Physical evidence from the crash site
Testimony from medical experts, accident reconstruction experts, and eyewitnesses
---
"The best law firm ever! They go above and beyond to help their clients. I personally would like to thank my lawyer Robin for everything she did to assure that my case was handled with the best care!!!"
– Stephanie M.
---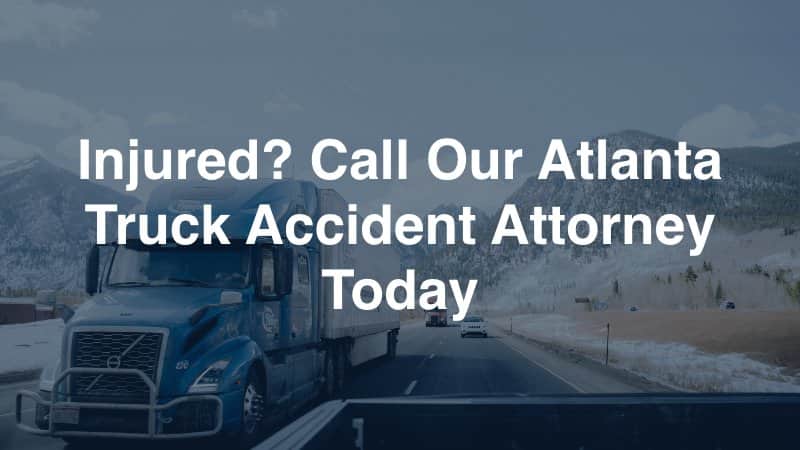 Areas We Serve
We are proud to serve neighborhoods and communities across the city of Atlanta, GA and the surrounding communities. Some of the areas we serve include:
Buckhead | Midtown | Virginia Highland | Inman Park | Old Fourth Ward | Grant Park | Ansley Park | West End | Kirkwood | Cabbagetown | Little Five Points | East Atlanta Village | Poncey-Highland | Atlantic Station | Reynoldstown | Castleberry Hill | Westview | Sweet Auburn | Oakland City | Mechanicsville | Morningside-Lenox Park | Brookwood Hills | Lakewood Heights | Edgewood | Pine Hills | Capitol View | Home Park | Adair Park | Ormewood Park | Underwood Hills
Reach Out to an Atlanta Truck Accident Lawyer at Monge & Associates Today
If you or a loved one has been injured in a truck accident, don't wait to seek legal help. The sooner you contact an experienced truck or car accident lawyer in Atlanta, the better your chances of securing the compensation you deserve.
We are ready to fight for your rights, guide you through the legal process, and help you rebuild your life. Contact Monge & Associates today at 888-653-0605 for a free consultation. Remember, you don't have to face this battle alone.