If you have been injured as a result of someone else's negligence or wrongdoing in Nashville, time may be running out, and your chance to secure the compensation you are owed may be slipping away!
At Monge & Associates, our powerhouse team of Nashville personal injury lawyers is on standby, ready to fight tirelessly for you. Don't waste another second – take action now to claim maximum compensation for your pain, suffering, and losses. Call us today at 888-688-1924 to schedule a free consultation and to learn more about how we can help.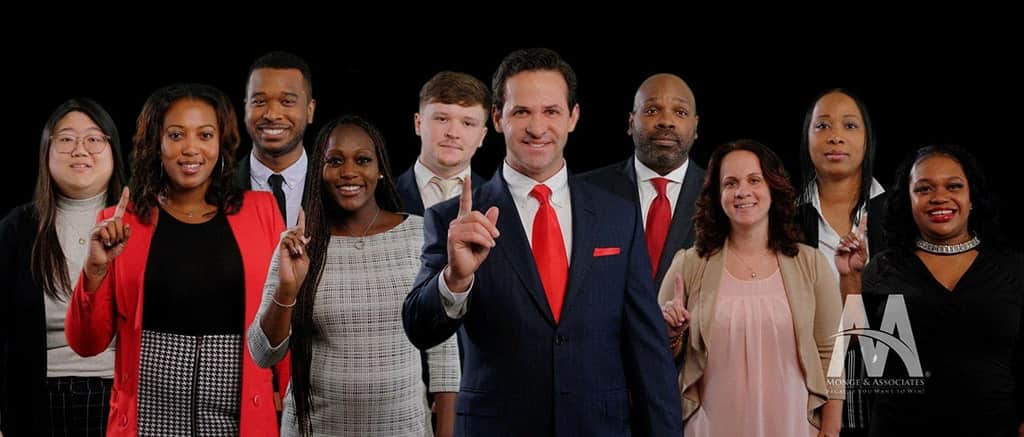 Common Types of Personal Injury Cases
At Monge & Associates, our Nashville personal injury lawyers handle many different types of personal injury cases, including those involving the following circumstances:
Motor Vehicle Accidents: When facing the aftermath of a car, truck, bus, motorcycle, or bicycle accident, every second counts. Our team knows the importance of a proactive and aggressive approach to motor vehicle accident cases. Rest assured that we won't back down from any challenges while pursuing compensation from the at-fault driver's auto insurance carrier.
Wrongful Death: Losing a loved one is an indescribably difficult experience, and the pursuit of justice shouldn't wait. Take action now to seek the compensation your family needs to cope with this devastating situation. Our compassionate lawyers are ready to support you throughout this challenging time, providing both legal expertise and emotional understanding.
Medical Malpractice: Medical professionals have a duty to provide their clients with the accepted standard of care. If you have suffered an injury or medical complication due to mistakes made by a doctor, nurse, or other medical professional, our team is well-equipped to fight for your rights and ensure you receive the compensation you rightfully deserve as a victim of medical malpractice.
Nursing Home Abuse: Elderly nursing home residents deserve the utmost respect and proper care. If you suspect that your loved one has suffered abuse in a nursing home, we can help you hold the wrongdoer, and the nursing home they work for, accountable for their actions and pursue the compensation your loved one deserves for the harm they have endured.
Slip and Fall Accidents: Negligent property owners can be held financially accountable for injuries that are the result of hazards on their property. Whether your accident was caused by a wet floor, torn carpet, broken handrail, or icy parking lot, reach out to our law firm to secure experienced legal representation that will fight tirelessly for the compensation you are entitled to.
Defective Products: If you have suffered injuries due to a defective product, you shouldn't let the manufacturer escape responsibility. Those who manufacture, design, and market products to consumers have a duty to make sure that those products are safe. We can help you assert your rights and seek the compensation you need to recover from your injuries and losses.
Workers' Compensation: A workplace injury can be physically and financially debilitating. Don't delay in seeking the workers' compensation benefits you rightfully deserve. Our skilled Nashville personal injury lawyers are prepared to advocate for your rights, ensuring you receive the compensation needed for a full recovery.
Why Hire an Experienced Personal Injury Lawyer?
After suffering an injury or loss due to someone else's negligence or wrongdoing, you can't simply hope that the at-fault party or their insurance company will do right by you. Hiring an experienced personal injury attorney is crucial to maximize your chances of successfully receiving the compensation you are entitled to. Our Nashville personal injury lawyers can provide you with the legal expertise, support, and representation you need to pursue your claim effectively.
Why Hire a Personal Injury Lawyer From Monge & Associates?
After sustaining an injury or loss caused by another party's actions, you need a powerhouse legal team that will act swiftly and fiercely on your behalf to obtain compensation for your damages. At Monge & Associates, we have a proven track record of securing millions of dollars in compensation for our clients, and we won't waste any time in fighting for you. We are dedicated to helping accident victims in Nashville get the justice and compensation they deserve.
Contact an Experienced Nashville Personal Injury Lawyer at Monge & Associates
Don't delay – reach out to our experienced Nashville personal injury lawyers right now! The clock is ticking, and we are ready to take immediate action on your case. Our initial consultation is free, so you have nothing to lose and everything to gain. Act now to secure the justice and compensation you rightfully deserve. Call Monge & Associates today at 888-688-1924 to schedule a free consultation.