Hurt By An Amazon Delivery Driver? Let Us Help You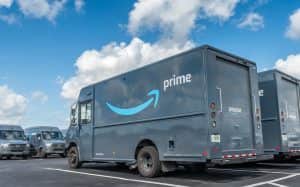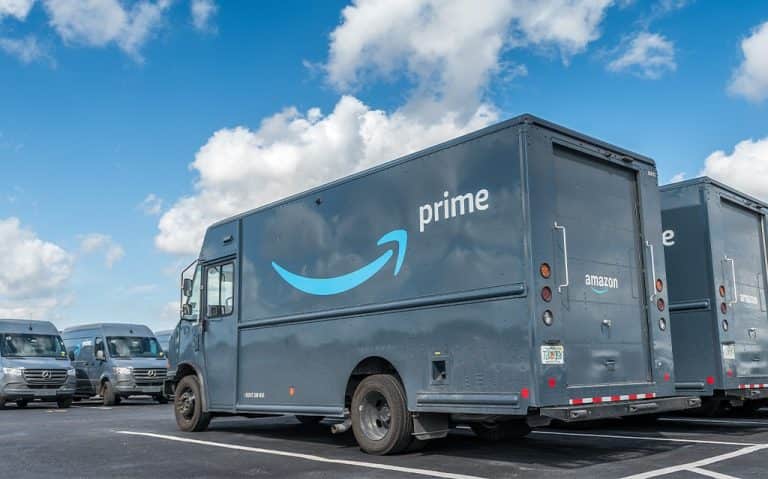 As Amazon drivers rush to fulfill their routes within a sometimes-unreasonable time frame, accidents have been growing steadily. Behind these accidents, unfortunately, are innocent victims. An Amazon delivery accident lawyer in Georgia can fight for justice in your case.
The sheer number of delivery vehicle accidents caused by Georgia delivery drivers has increased by astonishing numbers. Unfortunately, many of these accidents have serious life-changing repercussions for the victim. Physically, victims can suffer anywhere from minor cuts and bruises to death. Some injuries can be permanent and debilitating in nature and don't show the seriousness of the injury until further down the road.
So what do you do if you find yourself involved in an accident with an Amazon delivery driver? Well, the first thing you'll need to do before making an official statements is to speak to an experienced attorney!
Amazon has a team of lawyers ready to fight to give you the lowest possible settlement. Your job is to not give them any ammo to do that. Let us represent you and give you the legal advice you need to win your case.
Amazon Delivery Accident Resources
To immediately access the resources at any point on this page, click the corresponding links below.
When to Call an Attorney
Types of Accidents Involving Amazon Delivery Drivers
Why Are Amazon Delivery Accidents Dangerous?
Are Accidents the Fault of the Driver?
Could Amazon Be at Fault?
What About Other Responsible Parties?
The Importance of Legal Representation
How a Lawyer Can Help
Call an Attorney Today
When Do You Need an Amazon Delivery Accident Lawyer?
Call us – it's free! Our professional legal advice can you help decide if it's in your best interest to have an Atlanta, GA personal injury attorney in your corner. You don't have to go through this alone! As experienced personal injury attorneys, Monge & Associates have a proven track record of advocating for our clients and winning exactly these types of cases. We are not intimidated by huge mammoth companies like Amazon and have years of courtroom experience to back it up.
We offer a free consultation to discuss the details of your unique situation. During this consultation, we will first and foremost take the time to listen to you. You, as an accident victim, deserve to be heard and understood, and we, as attorneys, need to completely understand the difficulties of our clients. We'll share our best advice and explain your options and next steps, whether you choose to hire us or not. There is no obligation, so it is completely up to you to decide if you want to move forward with your case.
Most importantly, we understand that you are already going through a difficult life experience. We can provide you with legal services and advice that can only come from an experienced personal injury expert who has dealt with these types of situations and companies in the past. We are committed to making this process easier on you, and at the same time, taking away some of the burden involved in this difficult situation.
Types of Accidents Involving Amazon Delivery Drivers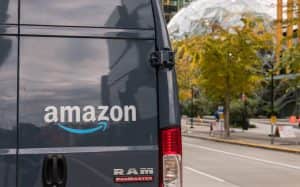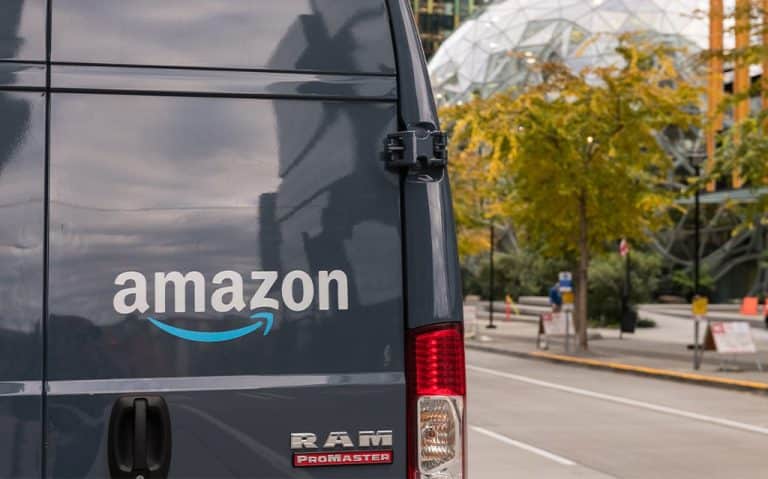 Amazon uses several types of vehicles to deliver packages, including truck trailers, sprinter vans, and walk-in vans. They also employ drivers that drive their own personal vehicles, known as Amazon Flex Drivers, as well as independent contractors.
More and more victims of serious accidents involving Amazon delivery vehicles and flex driver vehicles are coming to light each day. With these types of accidents, most people typically think of other passenger vehicles being on the receiving end of these collisions. Unfortunately, these are not the only victims of Amazon delivery driver accidents. Pedestrians, bicyclists, and motorcyclists are also the victims as well.
Pedestrians, bicycles, and motorcycles involved in an accident with any motor vehicle is a scary thought in itself. Now consider how much worse an accident involving an Amazon van or truck hitting a person walking or riding a bike or motorcycle could be. These people do not have any protection around them, and considering the additional size and weight of an Amazon or delivery vehicle, the idea is terrifying.
Amazon trucks and delivery vans are typically more dangerous when involved in a crash than a typical passenger car or truck would be.
Why Are Amazon Delivery Vehicle Crashes Dangerous?
Amazon delivery vehicle collisions can be particularly dangerous due to:
The large size and weight of the vehicle itself
The heavy weight of the load carried
A more obstructed view than a typical passenger vehicle would have
The speed at which they are driving, especially when combined with unmanageable time expectations
Distractions due to stress and high pressure
If these trucks are not operated correctly and responsibly, the possibility of severe injury from a crash is much higher than what an accident involving a regular motor vehicle would be.
The same can be said for the Amazon Flex Drivers, who are employed by Amazon but use their own vehicles to deliver and pick up packages. Most of the time, these are normal passenger vehicles with drivers that are contract employees under Amazon. However, these drivers are under the same stress and time constraints as truck and van drivers. Anytime stress and a push to perform faster are involved, risks increase.
To add another layer of complication, there is also the possibility of other companies or individuals being contracted by Amazon for deliveries. These contractors sometimes drive Amazon vehicles, but can also drive other vehicles owned by a contracting company or an individual. In other words, the potential is there for several parties to be considered liable for damages and personal injuries resulting from a collision with a vehicle that is owned or hired by Amazon. Our truck and car accident lawyer in Georgia is prepared to take on your case and fight to secure fair compensation for your injuries.
Are Accidents the Fault of the Driver?
When an accident, especially one that resulted in bodily injuries or property damage, involves a delivery driver, is it necessarily the driver that is considered to be responsible for the accident? Could it be Amazon? Or could it even be a different company or someone else?
Unfortunately, just as in any motor vehicle accident, sometimes the driver is to blame for his/her own unsafe driving. Amazon drivers are humans too, and make driving mistakes just like anyone else.
The most important safety feature in any vehicle is the driver. An Amazon driver has a big responsibility on their shoulders when they are operating a larger and heavier vehicle than most other vehicles on the road.
They have the responsibility of keeping eye on the road and eliminating any possible distractions. Equally important is that the driver needs to follow all the driving laws (which are designed for the safety of everyone), remain awake and alert, and never, under any circumstances, drive under the influence of drugs, alcohol, or other mood-altering substances.
In a perfect world, these driving standards are always followed by each and every driver operating any sort of motorized vehicle. However, we do not live in a perfect world.
Could Amazon Be At Fault?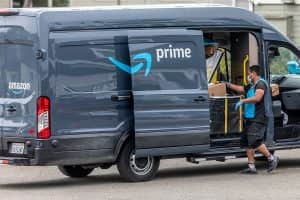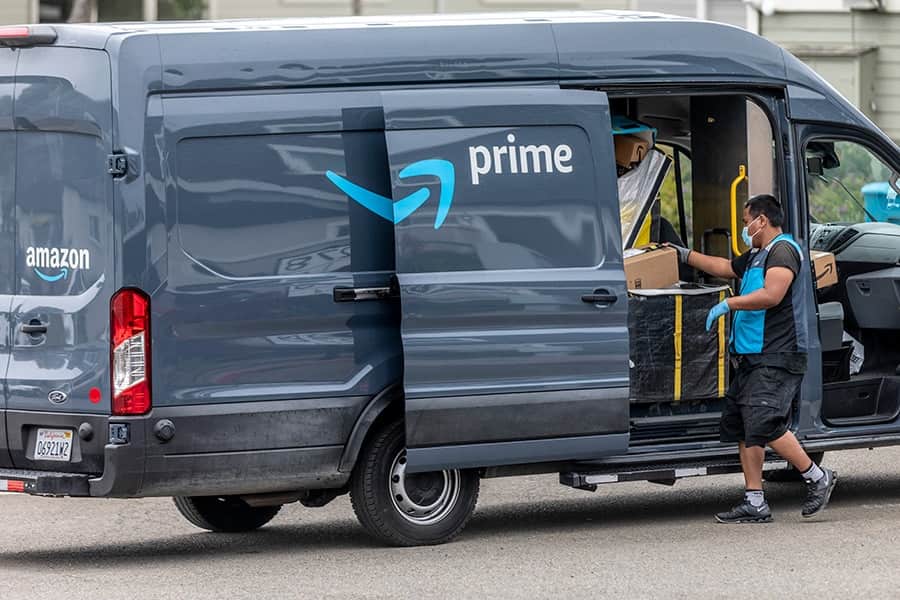 We've covered the size and weight of a typical Amazon delivery van or truck. Now add another facet to the scenario – a difficult delivery schedule and quota that doesn't necessarily allow for a reasonable amount of time in between deliveries and pickups. Unfortunately, that is exactly what some Amazon drivers deal with each and every day.
Amazon's scheduling between pickups and drop-offs is sometimes based on the amount of time it would take to drive from point A to point B. While looking at a map, that way of thinking is fine. But it doesn't take into consideration things like traffic lights, pedestrians, heavy traffic, or even having to move heavy or awkward deliveries and bring them to their designated areas. It doesn't always consider long driveways or snow/ice/rain or taking a couple of minutes to talk about the weather with a customer.
When the schedule is tight, does an accident become the fault of the driver or of Amazon itself? Are there others that could potentially be responsible?
What About Other Responsible Parties?
Even though the accident was involving a delivery driver, a delivery driver that was working for Amazon, and/or even driving an Amazon vehicle, is it necessarily the driver or Amazon that is considered to be responsible for the accident?
This is where things tend to get even more complicated. Amazon in itself is a complicated company. They employ over 300,000 employees in the United States alone. On top of the number of employees they have on the payroll, they also contract out deliveries through several different sources.
If you or your vehicle were hit by a contractor hired by Amazon to do deliveries, the liability could fall onto the shoulders of the contractor company or even the contracted driver. There is another layer that will almost always be involved in some way when an accident happens. We all know of them and likely deal with them on a personal level regularly. One thing is for sure… for every vehicle on the road in a commercial role or not, there is also an insurance company behind it. It is the law, after all.
With all this in mind, it is no wonder that many people seek legal counsel when they have found themselves in a situation that resulted from a collision with an Amazon delivery van, truck, driver, or even contractor. These situations are complicated!
The Importance of Legal Representation in Amazon Delivery Accidents
For the average person, knowing what to do and how to proceed after an accident when there are so many factors at play is a difficult to impossible task. It is no wonder that many crash victims hire an Amazon delivery accident lawyer to guide them through the process.
Injuries from an accident resulting from an Amazon truck could range anywhere from minor cuts and bruises to death. Sometimes injuries that initially seem minor prove to be much more serious down the road, such as in the case of internal injuries or spinal damage in the back and neck. The long-term repercussions are just as important, if not more important, in the long run. How will those medical bills get paid? Who is responsible for paying them?
It is not uncommon for Amazon as a company to refuse to take liability for an accident. With a large, multi-national company like Amazon, that is why it is even more important to consider legal counsel when an accident has occurred.
Exploring a Hypothetical Situation Involving Liability
Amazon contracted out deliveries to a company that uses its own vehicles and drivers. An accident occurs. Amazon can claim that the accident liability belongs to the contracting company or individual driver, as they are considered independent contractors and not Amazon employees.
The contracted company may claim that it is the fault of Amazon because it was Amazon's business at work when the accident occurred.
Enter insurance companies. Amazon's insurance company says it is not responsible for an accident that resulted from actions taken by a non-Amazon company or employee. The contractor's insurance company says that the liability belongs to Amazon alone.
And around it goes. None of the parties involved will claim responsibility, so it is up to the courts to decide who is liable.
All of these details and more are why hiring an Amazon delivery accident lawyer with true-life experience dealing with the Amazons of the world is not only recommended but encouraged for the sake of the victim.
The accident Attorneys of Monge & Associates have seen it all. They have fought against multi-million dollar companies for their clients and have come out on top, with excellent results for injured people. They know how important having compensation is for the lives of their clients who have suffered through no fault of their own.
How Can an Amazon Delivery Accident Lawyer Help You?
Even if you think your case is simple or uncomplicated, it's important to always have an experienced personal injury lawyer take a look at your case. We have a team of over 200 people, all of whom are passionate about the rights of the innocent and feel strongly that you deserve to be compensated for your injuries, pain and suffering, lost wages, and medical expenses. If you have damaged property, such as a car or motorcycle, that should also be compensated for.
You should not have to worry about loss of money or property. You have enough to focus on healing your body.
There are many advantages to hiring Monge & Associates for personal injury and loss of property cases, such as:
They answer your questions and offer advice regarding situations that you have never personally experienced.
They have extensive experience in trying these types of cases.
They know and understand the legal system and how it works.
They have extensive resources available to them that the average citizen does not have access to or know how to get.
They can conduct an investigation to research the details on your case, including having access to police records, DMV records, and more.
They will advocate on your behalf with other lawyers, judges, and other parties involved in your case.
They will represent you in court against Amazon's lawyers and insurance companies.
They will offer any additional services needed
Our goal at Monge & Associates is to obtain the best possible compensation package for you. If you have been involved in an accident with an Amazon delivery truck or vehicle, an Amazon delivery accident lawyer from our team is committed to working tirelessly to ensure that you receive the compensation you deserve.
Being the victim of an Amazon delivery van or truck is a difficult road to travel. You didn't ask for it to happen, but since it did, you need to have a plan of action. Let us help you with that so you can concentrate on your healing and recovery.
Our Team Knows How to Win Big & is Here to Help
At Monge & Associates, we concentrate our practice in helping innocent injury victims hurt by Amazon drivers Win Big. Contact us today to schedule your free initial consultation with an Amazon delivery accident attorney.