If you have been injured in an accident in Charleston, SC, caused by someone else's negligence or wrongdoing, you need a legal professional who understands the complicated personal injury claims process. You need a Charleston personal injury attorney who will go above and beyond to ensure you receive the full and fair compensation you deserve.
At Monge & Associates, we have a wealth of experience and an unwavering commitment to guiding our clients through the personal injury claims process and pursuing justice on their behalf. With our considerable experience and steadfast dedication, we strive to provide unparalleled legal representation that yields the best possible outcomes for our clients.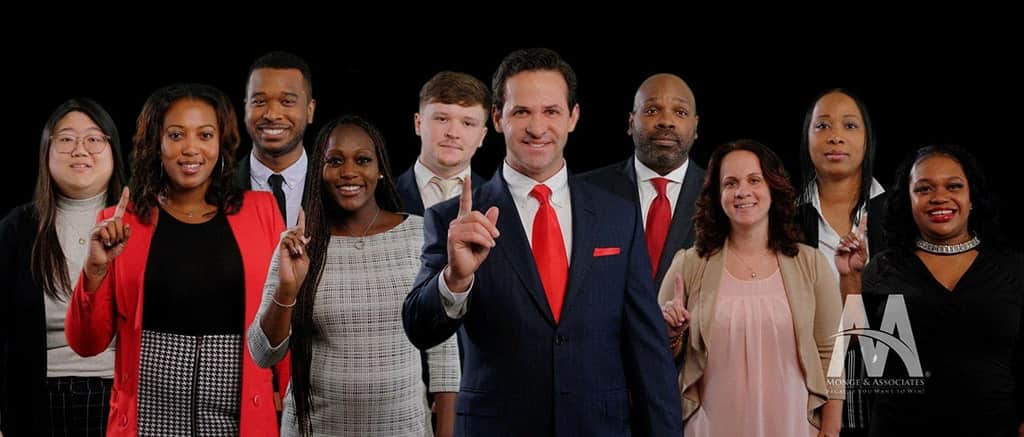 Charleston Personal Injury Resources
To immediately access the resources at any point on this page, click the corresponding links below.
Cases We Handle
At Monge & Associates, we have an exceptional team of Charleston, SC personal injury lawyers adept at handling a wide range of cases. Whether you are dealing with the aftermath of a car accident, slip and fall accident, workplace injury, or any other unfortunate accident, we are ready to advocate on your behalf. We understand the profound physical, emotional, and financial toll a personal injury can inflict on your life. Consequently, we are committed to assisting you in making a recovery, both physically and financially.
Types of Injuries We Deal With
Personal injury cases exhibit a wide range of injuries of varying severity and impact, including:
Back, spinal cord, or lumbar injury: These types of injuries can have long-lasting effects on your mobility and overall quality of life.
Broken or fractured bones: The pain and distress associated with broken or fractured bones can make it hard to perform your daily activities and impede your path to a swift recovery.
Brain injury: A brain injury can have catastrophic consequences, impacting your cognitive abilities and overall functioning.
Lacerations: Deep cuts and lacerations often require extensive medical treatment and can leave scars that remain for the rest of your life.
Burns: Burn injuries can cause incredible agony and require ongoing medical care and rehabilitation.
Regardless of the injury you have suffered, our legal team stands poised and ready to fight tooth and nail to protect your rights and pursue the compensation you deserve.
Bringing a Personal Injury Claim in Charleston
Navigating a personal injury claim in Charleston often requires the help of a seasoned legal professional. Here at Monge & Associates, we can guide you through every twist and turn, from gathering evidence and constructing a robust case to negotiating with the liable insurance companies and, if necessary, representing your interests in court. Our sole aim is to alleviate the legal burdens weighing upon you so that you can focus on your recovery. At the same time, we fight for the justice and compensation you rightfully deserve. From premises liability to car accident lawsuits in Charleston, we can help.
How Much Is My Charleston Personal Injury Claim Worth?
Because each personal injury case is unique unto itself, the value of a claim depends upon many factors. Our seasoned personal injury lawyers will leave no stone unturned as we evaluate the details of your case to discern the potential value of your claim and ensure that you receive all the compensation to which you are entitled.
What Are the Types of Personal Injury Damages?
In personal injury cases, damages refer to losses and expenses incurred by the victim and for which compensation is sought. Some common types of personal injury damages include:
Medical bills: This can include past and present medical expenses, as well as any ongoing treatment, rehabilitation, and unforeseen future medical care that you may require.
Temporary or permanent disability: If your injuries result in temporary or permanent disability, you may be entitled to compensation for the impact on your quality of life and future earning capacity.
Property damages: If your personal property was damaged in the accident, you may be able to recover the cost of repairing or replacing your damaged property.
Pain and suffering: Compensation may be available for the physical and emotional pain you have already endured or will endure in the future due to your injuries.
Loss of income: If your injuries have prevented you from working or have resulted in a loss of earning capacity, you may be entitled to compensation for the income you have lost and will continue to lose in the future.
Loss of enjoyment of life: An injury can rob you of life's pleasures and prevent you from enjoying activities you once cherished. A personal injury claim can allow you to recover compensation for the adverse impact the accident has had on your overall quality of life.
Punitive damages: In personal injury cases where the defendant's actions were particularly malicious or egregious, punitive damages can be awarded to punish the responsible party for their behavior and to deter others from engaging in the same or similar conduct.
How Do You Prove a Charleston Personal Injury Lawsuit?
To recover compensation in a Charleston personal injury lawsuit, you'll need to prove four key elements that demonstrate the defendant's liability. Here are the critical factors to consider:
Duty of Care: The first step is to establish that the defendant owed you a duty of care. This duty varies depending on the relationship between the parties; for example, a driver has a responsibility to follow traffic laws and drive his or her vehicle safely.
Breach of Duty: Next, you must show that the defendant failed to meet this duty by committing a negligent act or failing to act. In a car accident, for instance, a driver breaching their duty might involve running a red light.
Causation: The third step is proving that this breach directly caused your accident and the injuries that you suffered. You'll need strong evidence linking the defendant's actions to your injuries.
Damages: Finally, you must demonstrate that you suffered damages as a result of the defendant's actions, such as medical bills or lost wages.
To solidify your case, you can leverage several pieces of evidence. These may include photos of the accident site, physical evidence found at the scene, law enforcement reports, and eyewitness statements. Your medical records will be especially valuable. Your attorney from Monge & Associates will collect and analyze all pertinent information, using this evidence to craft a compelling case in your favor.
Why Hire a Charleston, SC Personal Injury Lawyer?
Navigating a personal injury claim alone can be a daunting task, particularly when dealing with the liable insurance companies and the legal complexities involved in the process. Hiring an experienced Charleston, SC personal injury lawyer can tip the scales in your favor and exponentially increase your chances of securing fair compensation for your injuries.
The Charleston personal injury attorneys at Monge & Associates have an in-depth understanding of South Carolina personal injury law and a proven record of success in handling even the most complicated of cases. We will fight aggressively on your behalf to ensure that you receive all the compensation you deserve.
What Is the Statute of Limitations for Personal Injury in South Carolina?
In South Carolina, you generally have three years from the date of the accident to file a personal injury lawsuit. While three years may seem like a long time, you should initiate your claim as soon as you possibly can. If you do not file within the specified timeframe, the court will likely dismiss your case and bar you from recovering compensation.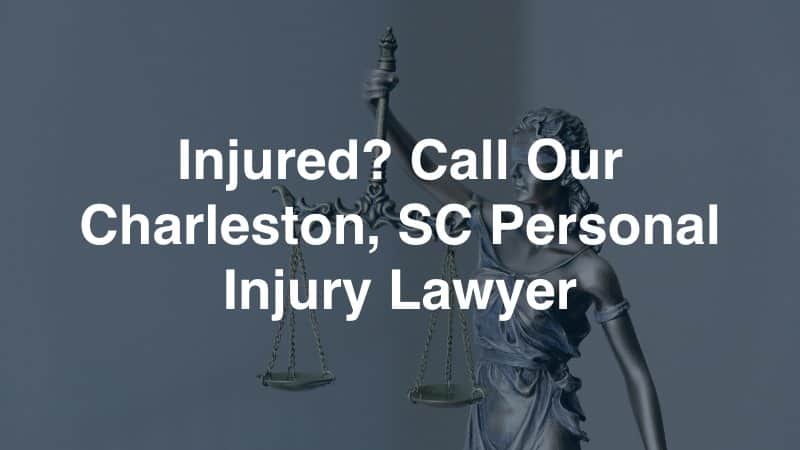 What to Do If You're Injured in an Unexpected Accident
If you've been injured in an unexpected accident, immediate action is not just crucial for your well-being but also for building a robust legal case. In these situations, it is important to take these steps to protect yourself and your future lawsuit:
Find a Safe Place: The first thing to do is to evaluate your surroundings for immediate dangers. If you're in a car accident, for example, try to move to the road's shoulder or median.
Seek Medical Attention: Regardless of whether you feel injured, you should seek prompt medical care after an accident. Immediate treatment not only helps you recover but also serves as crucial evidence linking your injuries to the accident.
Collect Information: Once it's safe to do so, gather information from the other party involved in the accident. Collect his or her name and insurance details, and make sure to avoid admitting fault or excusing his or her behavior.
Speak to Eyewitnesses: Eyewitnesses can be invaluable for your case. Gather names, phone numbers, and email addresses of anyone who witnessed the accident and could provide testimony.
File a Police Report: If police arrive at the scene, make sure they file a report and give you the information you'll need to obtain a copy. This report can be vital for building your case.
Gather as Much Evidence as Possible: Keep all medical records, police reports, photographs, and other relevant documents. These materials can serve as crucial evidence in your personal injury lawsuit.
Obtain Legal Representation: After immediate concerns like health are addressed, contact a Charleston personal injury attorney. Your lawyer can guide you through the complexities of legal proceedings, protecting your rights.
Contact A Charleston Personal Injury Attorney Today
If you or a loved one has been injured due to someone else's negligence or wrongdoing in, time is of the essence. Do not delay in your pursuit of justice and rightful compensation. Contact us today at 888-477-0597 to schedule a free consultation with an experienced Charleston personal injury lawyer.
We handle personal injury and wrongful death claims in Charleston, SC on a contingency fee basis, meaning you will pay us nothing upfront and will only owe a fee if we win compensation for you.