At Monge & Associates, we understand the devastating impact that a car accident can have on your life. An accident can result in life-threatening injuries and fatalities. Add to this the damage to your vehicle, medical expenses, and lost wages and income while recovering from your injuries and the expenses quickly snowball out of control.
Our Roanoke car accident lawyer is here to fight for your rights and help you recover the maximum compensation you deserve after a car accident. With our proven track record of success, we have recovered millions of dollars on behalf of our clients. Let us be your advocates during this challenging time.
Roanoke Car Accident Resources
To immediately access the resources at any point on this page, click the corresponding links below.
Why Choose Monge & Associates?
Types of Car Accidents
Common Car Accident Injuries
The Importance of Legal Representation
Securing Compensation Can Be Challenging
Should I Talk to the Insurance Company After a Collision?
Potential Damages in Your Case
How Much is Your Case Worth?
Steps to Follow After a Crash
Speak to a Lawyer Today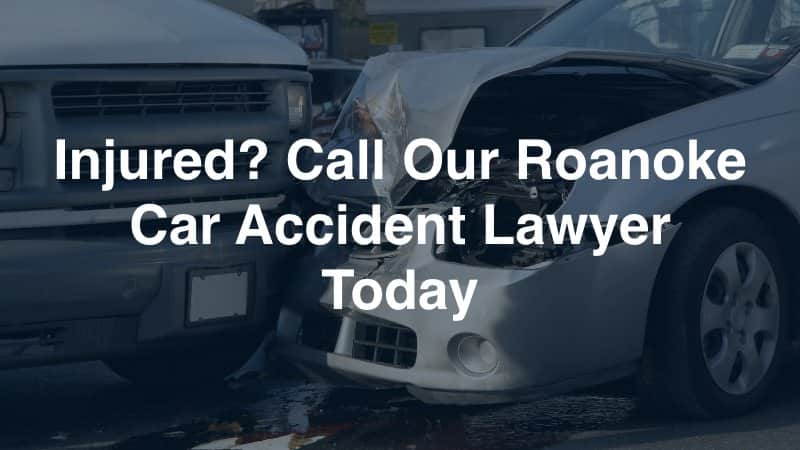 Why Choose Monge & Associates To Represent You?
When you choose Monge & Associates to represent you, you can expect comprehensive support and vigorous advocacy throughout your car accident case. Here's how our Roanoke car accident attorneys will assist you:
We Will Handle and Explain All the Legal Language: Legal proceedings can be daunting, with complex terminology and procedures. We will guide you through every step, ensuring you understand the process and your rights.
We Will Handle the Insurance Company: Dealing with insurance companies can be frustrating and overwhelming. Our attorneys have the experience and negotiation skills to engage with insurers on your behalf, advocating for a fair settlement offer.
We Will Help You Understand All of Your Damages: Evaluating the full extent of your damages is crucial in determining the appropriate compensation. We will assess your medical expenses, lost wages, property damage, pain and suffering, and other losses to ensure you receive the maximum compensation you deserve.
We Will Fight Passionately to Get You the Maximum Settlement: Our results-driven approach means we are committed to securing the highest possible settlement for you. We will meticulously investigate the accident, gather evidence, interview witnesses, and build a strong case to support your claim.
We Will Represent You in Court: While most car accident cases are settled through negotiations, we will be prepared to take your case to court if needed. Our skilled litigators will present a compelling case before a judge and jury to protect your rights and pursue the compensation you deserve.
We Don't Get Paid Until You Win: At Monge & Associates, we operate on a contingency fee basis. This means that you don't have to worry about upfront costs or fees. We only get paid when we successfully recover compensation for you, giving you peace of mind during this challenging time.
Types of Car Accidents in Virginia
There are various types of car accidents that occur on Virginia roads. Understanding the nature of your accident is crucial in building a strong case. The Roanoke car accident lawyers from Monge & Associates have the knowledge and expertise to handle all types of accidents, including:
Rear-end collisions
Head-on collisions
Sideswipe accidents
Side-impact collisions
Multi-vehicle accidents
Single-vehicle accidents
Rollover accidents
No matter the circumstances of your accident, we are here to provide you with the legal representation you need to pursue the compensation you deserve. From standard motor vehicle collisions to motorcycle accidents, our car and motorcycle accident lawyer in Roanoke can help.
Common Car Accident Injuries in Roanoke
The impact of sustaining an injury in a car accident extends far beyond the immediate pain and discomfort. A car accident injury can lead to long-term health consequences, emotional trauma, and financial strain due to medical bills and loss of income.
Below are some of the most common injuries in car accidents:
Whiplash: This injury is caused by a sudden jerk of the head in different directions, often leading to chronic neck pain and stiffness.
Concussions: These traumatic brain injuries may manifest in a range of symptoms including headaches, impaired memory, and sometimes long-term cognitive issues.
Broken Bones: Fractures are common in high-impact collisions and may require surgery, extended hospital stays, and long-term physical therapy.
Soft Tissue Injuries: Sprains, strains, and bruises can seem minor at first but often worsen over time, requiring medical treatment.
Spinal Cord Injuries: Damage to the spinal cord can lead to permanent paralysis and often requires extensive, ongoing medical care.
Burns: These injuries can result from fires, chemical spills, or contact with hot surfaces during the accident and can lead to scarring or disfigurement.
The Importance of Legal Representation in Virginia Car Accident Cases
When it comes to car accident cases in Virginia, having skilled legal representation is of utmost importance. After being injured in a car accident, it can be difficult to navigate the complex legal landscape while dealing with injuries, medical bills, and emotional distress. Our Roanoke car accident attorneys understand the intricacies of Virginia law and will fight vigorously to protect your rights and interests. Our goal is to passionately pursue the maximum settlement you deserve, using our expertise and resources to build a compelling case. At Monge & Associates, we are committed to your success, and our Roanoke personal injury lawyer only gets paid when you win.
After a Car Accident, It's Tough to Get Compensated Fairly
Recovering fair compensation after a car accident can be an uphill battle. Insurance companies often employ tactics to undervalue car accident claims or deny them altogether. This leaves car accident victims struggling to cover their medical expenses, property damage, and other losses.
At Monge & Associates, we believe that you deserve justice and fair compensation for your suffering. Our Roanoke car accident lawyer is prepared to take on the liable insurance companies and fight tirelessly on your behalf. We understand the challenges you face and will work diligently to gather evidence, assess liability, and calculate the full extent of your damages.
We are committed to helping you navigate the legal complexities involved in a Virginia car accident case, and ensuring that you receive the compensation you deserve. With our proven track record of successful settlements and trial outcomes, you can trust us to handle your case with the utmost care and dedication.
Should I Talk to the Insurance Company After a Collision?
No, it's not advisable to speak with the other driver's insurance company without consulting your attorney. Doing so may jeopardize your claim and potential compensation.
Insurance companies may ask you to provide a statement about the accident before you know all of the details. They may also offer a settlement before you have a clear picture of your damages and injuries.
If you provide a premature statement, you could say something that could affect your claim in the future. If you accept an early settlement, you may not recover all of the compensation that you are entitled to. To protect your rights, let your Roanoke car accident lawyer handle communications with the insurance company.
What Damages Can I Recover in a Roanoke Car Accident Claim?
In a Virginia car accident claim, you can seek compensation for various types of damages you have incurred as a result of the accident. These damages can be categorized into economic and non-economic damages.
Economic damages refer to the tangible losses you have suffered, such as medical expenses, lost wages, property damage, and rehabilitation costs. These damages can be calculated based on actual financial losses you have incurred and will incur in the future.
Non-economic damages, on the other hand, are more subjective and encompass intangible losses like pain and suffering, emotional distress, loss of enjoyment of life, and loss of consortium. Evaluating non-economic damages requires considering factors such as the severity of your injury, its impact on your daily life, and the long-term consequences.
How Much Is My Car Accident Settlement Worth?
Determining the value of your car accident settlement is a complex process that depends on several factors. These can range from the severity of your injuries, medical costs, and lost wages, to your ability to work after the accident.
Each case is unique, which is why you should consult with an attorney from Monge & Associates about your potential settlement. Your lawyer will assess all avenues to compensation and evaluate all pieces of evidence to calculate your maximum award.
What to Do If You're Injured in a Roanoke Car Accident
If you find yourself injured in a car accident in Roanoke, it is important to remain calm and seek help as soon as possible. Below are some pivotal steps to follow:
Contact Emergency Services: The moment an accident occurs, dial 911 to bring law enforcement and medical assistance to your location. A formal police report can provide an unbiased view of the event, which can support your future case.
Seek Medical Attention: Even if your injuries don't seem severe, get yourself evaluated by medical professionals. This not only ensures your well-being but also provides a record of medical care that can be crucial when claiming compensation.
Collect Evidence: Capture photographs or video footage of the incident scene, any skid marks, your vehicle's damage, and your own injuries. If there are eyewitnesses, collect their contact details. Make sure to exchange your information with all the drivers involved in the accident.
Consult with a Roanoke Car Accident Lawyer: After attending to your medical needs, connect with an attorney who specializes in car accidents. A lawyer from Monge & Associates can guide you through the complexities of your claim and fight for your fair compensation.
Contact Our Roanoke Car Accident Attorney For Your Free Case Review
If you've been injured in a car accident, don't wait to seek the legal representation you need. Contact Monge & Associates at 888-477-0597 today to schedule your free case review. Our Roanoke car accident attorney will listen to your story, assess the strength of your case, and provide you with an honest evaluation of your options. We are dedicated to fighting for your rights and helping you recover the maximum compensation you are owed. Let us handle the legal complexities while you focus on your recovery. Remember, time is of the essence, so reach out to us today to begin your journey toward justice.
Car Accident Resources: How drunk driving fatalities in Virginia compare to the rest of the US
There were an estimated 42,795 fatalities due to motor vehicle crashes in 2022, down by 0.3% from the year prior, according to early estimates released in April 2023 from the National Highway Traffic Safety Administration. While a reduction in crash-related deaths, even one as slight as this, is generally positive, the facts remain deeply concerning: Crash-related deaths rose more than 10% in 2021 and more than 7% the year before that, marking a disturbing trend leading into and persisting through the COVID-19 pandemic.
In 2021, the most recent full year of traffic-death data available, drunken driving fatalities rose by 14% from 2020. Monge and Associates cited data from NHTSA to identify states with the highest rate of fatalities from car accidents involving at least one drunken driver. States are ranked by drunken driving fatalities per 100,000 residents. This rate is listed up to its first decimal point, but the exact ranking of states was determined from the total rate calculation, which did not result in ties.
A blood-alcohol content of .08 or higher is considered impaired. Judgment and driving abilities continue to worsen as BAC levels increase. Laws adopted between 1982 and 1997 throughout most of the U.S. successfully decreased the proportion of DUI-related motor vehicle fatalities in subsequent years.
Alternative transportation programs have also shown some promise in helping to deter drunken driving. Even in areas lacking robust transit options, recent studies suggest that alternatives such as rideshare services like Uber and Lyft can reduce drunken driving-related collisions.
Keep reading to see what percentage of car crash deaths in Virginia involved drunken driving and how it compares to the 49 other states, Washington D.C., and Puerto Rico. See the ranking of all 52 states and territories here.
Virginia by the numbers
#15 lowest
– Drunken driving fatalities per 100k residents: 3.2 (281, 29% of all car crash fatalities)
– Fatalities involving driver with BAC 0.15 and above: 2.2 per 100K (187, 66.5% of all drunken driving fatalities)
– Change in drunken driving fatalities from 2012: 34.4% increase
Continue below to see drunk driving statistics of other states in your region.
Kentucky by the numbers
#21 highest
– Drunken driving fatalities per 100k residents: 4.2 (190, 24% of all car crash fatalities)
– Fatalities involving driver with BAC 0.15 and above: 3.0 per 100K (136, 71.6% of all drunken driving fatalities)
– Change in drunken driving fatalities from 2012: 12.4% increase
Maryland by the numbers
#12 lowest
– Drunken driving fatalities per 100k residents: 3.2 (195, 35% of all car crash fatalities)
– Fatalities involving driver with BAC 0.15 and above: 2.0 per 100K (124, 63.6% of all drunken driving fatalities)
– Change in drunken driving fatalities from 2012: 19.6% increase